Industrial Electrical Services
Count on Triquest Electrical for comprehensive industrial electrical services. With over 8 decades of experience in the field, we have expertise in many specific areas.
The oil and gas sectors are a large part of our history. Our team has done multiple jobs, from wiring industrial skid packages to designing control panels for all engineering processes. We have experience working on various projects, including:
Water Treatments
Wastewater Treatment for Camps in the Oil Fields
Process Skids for the Oil and Gas Sectors
Our team is also experienced in the following wiring methods:
Explosion-Proof
General Purpose
Weatherproof
Tropical
Fungal-Resistant
Check out our partial list of industrial electrical services and contact us should you need our help.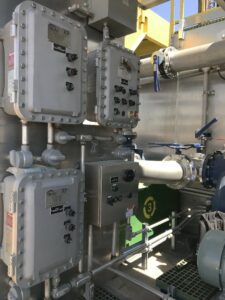 Partial List of Services:
Automation Design and Engineering
Electrical Power Design and Engineering
Instrumentation Wiring
Process Control Design and Implementation
PVC Water Distribution Piping
Generator and Transfer Controls
Instrumentation Sampling
Instrumentation Programming
Automatic Valve Setup and Wiring
Hazardous Location Wiring
Power and Control Tray Installation
Custom Built Motor Control
Custom Built Process Control Panels
PLC Control, HMI, SCADA, and Remote Monitoring
Data Logging and Trending
Level Sensing
Remote Operation
Waterproof Wiring
Splashdown Application Wiring
Skid Package Wiring
Automation Design and Engineering
Electrical Power Design and Engineering
Instrumentation Wiring
Process Control Design and Implementation
PVC Water Distribution Piping
Generator and Transfer Controls
Instrumentation Sampling
Instrumentation Programming
Automatic Valve Setup and Wiring
Hazardous Location Wiring
Power and Control Tray Installation
Custom Built Motor Control
Custom Built Process Control Panels
PLC Control, HMI, SCADA, and Remote Monitoring
Data Logging and Trending
Level Sensing
Remote Operation
Waterproof Wiring
Splashdown Application Wiring
Skid Package Wiring
Automation Design and Engineering
Electrical Power Design and Engineering
Instrumentation Wiring
Process Control Design and Implementation
PVC Water Distribution Piping
Generator and Transfer Controls
Instrumentation Sampling
Instrumentation Programming
Automatic Valve Setup and Wiring
Hazardous Location Wiring
Power and Control Tray Installation
Custom Built Motor Control
Custom Built Process Control Panels
PLC Control, HMI, SCADA, and Remote Monitoring
Data Logging and Trending
Level Sensing
Remote Operation
Waterproof Wiring
Splashdown Application Wiring
Skid Package Wiring